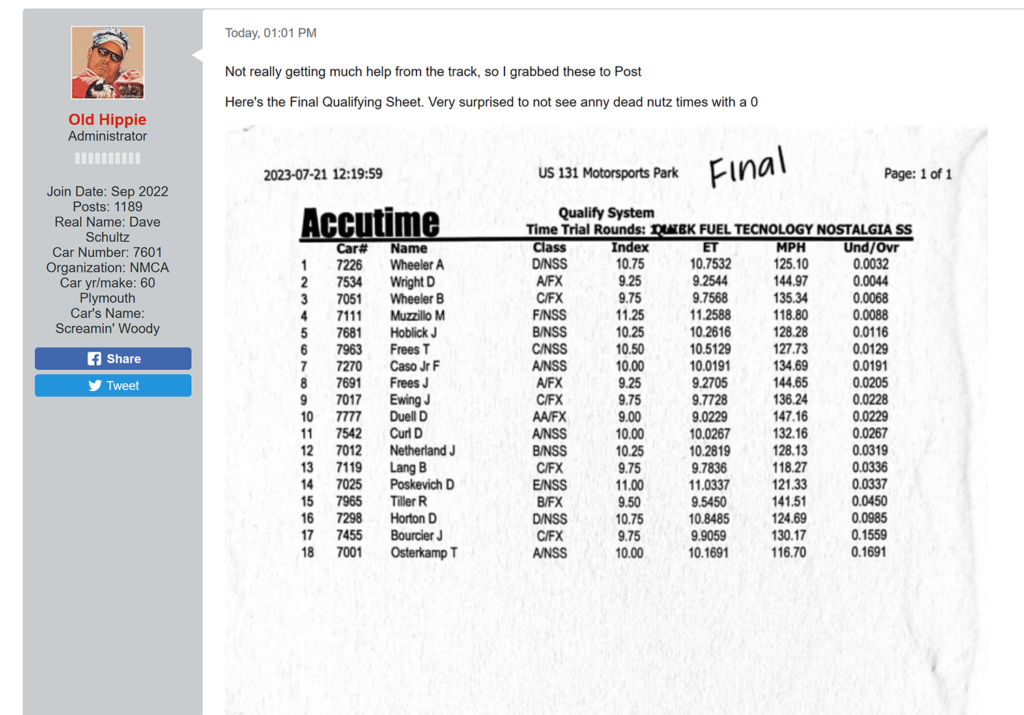 In the NSSRacing forums (https://nssracing.com/forums) there is a discussion with updates on the NMCA race going on in Martin, Michigan. The entire forum is set up to the one best place to go for all things NSS Racing. This "Live At" discussion is a place to post news, information, updates and photos. It serves three purposes: The first is for racers at the track to view schedule changes, weather updates, qualifying, ladders, who broke, and track & pit photos. The second for fans to stay up to date. Finally, for NSS Racers who never attended the event to see what they've been missing out on, and maybe grow the class at the next event.
It only takes a couple minutes to register to post. The site is 100% secure with a legit SSL certificate and I laced no ads or annoying popups. I pay all of the expenses and generate no revenue because I love the Class and would like to see more new blood come in than the age attrition is taking out.
I will never give, sell, rent, lease or otherwise give up any of your information to anyone short of a court order. I bought the very best and most secure board software, put in on a fast server with a powerful firewall to ensure your limited logon information is locked up tighter than Fort Knox. The application is also smart phone friendly. Take a photo on your phone and upload it to a post. Its no more difficult to use than Facebook, but better organized, no spam and more secure.
Please, take a few minutes to view the forum to see how you quickly put you can put your finger on the info your looking for and avoid what you don't need. There is a NSS Racing related Classified ads section, a vendor Rollodex, a section for each of the larger organizations, technical white papers, questions and answers for general drag cars or Make Specific.
Please, if you're a NSS Racer of fan – please check out the forums and have it as one of your browser's open tabs. The only thing missing is a couple of Leaders to jump in and participate so the Followers will soon jump in too. None of this is Rocket Science, but if you ever have an issue – email me at davetheoldhippie@gmail .com with details of your problem and we'll get it fixed.